Activities

SHA This Week 11/29/17
COMMITTEE CORNER
DIVERSITY & INCLUSION MEETING:
Th November 30 6-8p / Petworth Library - Study Room B
Planning for December and January Monthly Themes and activities.
You can dial-in to participate if you are not able to come in person:
(719) 284-5429. Pin number 56115.
A BIG THUMBS UP and THANK YOU to Breakthough parents Jenn DePalma and Jeremy Tidd, owners of the family run urban landscape company Bona Terra! They created
usable outdoor space at the front of the school and as you can see here the students love it! Thank you to Bona Terra for working with the SHA on this project and donating their design, assembly and installation time.
PARENTS NEEDED! With the generous giving of families, the SHA is able to execute activities, enrichment and more! However, to do that we need thriving committees to make it all happen. More help means a little time can go a long way!
If you would like to join any committee please do so on Konstella in order to be a part of communication related to that committee and RSVP for meetings. If you are not ready to join, but interested in attending and meeting, please feel free to do so! Send questions to breakthroughsha@gmail.com and we will get you connected with the right person

!
LET'S HAVE FUN(draising) TOGETHER
LAST DAY FOR LITTLE COCO'S!
Today is the last day to have an amazing meal at Little Coco's right around the corner from school and have 10% of your receipt benefit Breakthrough SHA.

Please see the flyer attached for how to submit your receipt, hours and other details.
SHOWING OUR GRATITUDE TO OUR GUIDES AND CLASSROOM ASSISTANTS THIS HOLIDAY SEASON
Join in on saying thank you for the work Breakthrough guides and assistants do with our children, for all their lessons, for their patience every day, for all the stories they read to them, for all the happy songs, for encouraging our children to be kind and caring and independent.
You can give to this school wide collection one of 3 ways now through Tuesday, December 5th.
1)

Spreading the Joy of the Holidays Campaign Website:
3)
Check: Made to Breakthrough Montessori PCS SHA and can be given to the front desk to be put in the SHA mailbox.
All donated funds will be pooled and evenly divided among all guides and classroom assistants to ensure equitable distribution and even appreciation. Guides and assistants will be receive an Amazon Gift Card. Suggested donation per family is $20.
AMAZONSMILE
AmazonSmile is the same Amazon you know. Same products, same prices, same service. You only have select Breakthrough Montessori SHA once.
Are you ready for the holidays? As done last year Breakthrough SHA will offer families the service of gift wrapping. You can drop off your gifts and our volunteers will be glad to help you with gift wrapping. All funds collected from the activity will go to the School Home Association.
Families can donate wrapping materials (paper, tape, bows) to Jasmine Jones by December 13th.
Suggested donation is $10 for up to 10 gifts.
TH December 14 / Location TBD
Drop-Off Gifts: 8:30-10:30a
Wrapping Volunteers Needed: 4-6p (sign up on Konstella to help wrap!)
FR December 15 /Location TBD
Pick-Up Gifts: 11:45a-6:30p
Wrapping Volunteers Needed: 12p-6:30p (sign up on Konstella to help wrap!)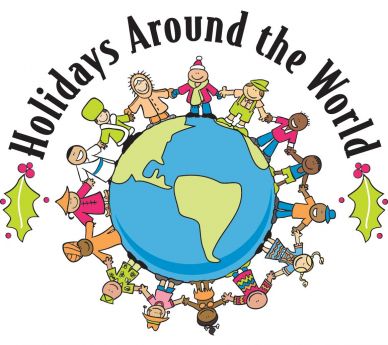 DECEMBER CULTURAL EXPERIENCE THEME:
HOLIDAY/DIFFERENT BELIEF SYSTEMS
Ms. Ersi, one of Breakthrough's afternoon assistants is coordinating the December monthly focus activity. She is providing a variety of books about religious tolerance and winter holidays for guides to read in their classrooms. The list of books is posted on Konstella,
PARENTS COME SHARE!
Parents who are interested in preparing a 15 minute, in-class presentation about an aspect of their particular religion (e.g a religious symbol, holiday song, or nut-free treat) may contact their child's guide to arrange a time and date between December 1st and 14th.
If you have an questions, please contact Ms. Ersi /
ersi
@breakthroughmontessori.org
BREAKTHROUGH PCS INFO: DON'T MISS THIS!
As you have seen in the school's Breakthrough Bulletin, you can join An Evening with Ana Maria Garcia Blanco tonight!
The D.C. Montessori community is coming together to learn more about the remarkable story of Montessori in Puerto Rico, to be inspired by Ana's vision and fortitude, and to raise funds to support reconstruction efforts. Click here for all the details and to RSVP >>>
When to expect recurring emails (usually) ...

MONDAYS: SHA Monday Memo (highlight of the week)

TUESDAYS: Breakthrough Bulletin from School

WEDNESDAYS: SHA This Week (list of various information)