Activities

PTA Newsletter 9/9/19
OTIS SCHOOL CALENDAR - DATES TO REMEMBER
September 2019
September 9th, Monday
-Monday Community Circle (assembly), blacktop 8:20
September 11th, Wednesday
-Picture Day
-Bike repair day, blacktop, 12-4 pm
September 13th, Friday
-Otis Movie Night, MPR, 6-8:30 pm - SOLD OUT!
-Summer Scholars Lunch, K & 1st 11-11:30, 2nd & 3rd 11:30-12, 4th & 5th 12-12:30
-Family Celebration Picnic, Krusi Park for potluck and picnic 6-7 pm, MPR for performances 7-8 pm
September 22nd, Sunday

-Otis at the A's, Oakland A's v. the Texas Rangers, Oakland Coliseum, 1:07 p.m.
September 26th, Thursday
-PTA Social Night, Alameda Island Brewing Co. 6-7 pm
September 27th, Friday
-Teacher Collaboration Early Dismissal, Kinder released at 11:40 am, 1st -5th released at 12:30 pm
October 2nd, Wednesday
-Walk & Roll to School Day, blacktop 8-8:20 am
October 7th, Thursday
-Dine & Donate at Chipotle
October 11th, Friday
-No School, Staff Development Day
Please join the Otis School Site Council!

It is time to elect School Site Council committee members. All school sites are required to have a School Site Council (SSC), which is an elected advisory committee that consists of parents, teachers, community members, and staff. It is our goal to have 2-3 additional parent/guardian members who represent the diversity of the school.



The SSC is responsible for the development and approval of the district required Single Plan for Student Achievement (SPSA). The school site council reaffirms or revises school goals, revises improvement strategies and expenditures, and monitors implementation of the SPSA. Part of the purpose of the SSC is to make

sure parents/guardians have a voice in making decisions about how our State and Federal funds are spent.
THREE WEEKS LEFT
DIRECT DONATION AND MEMBERSHIP DRIVE!
Become a PTA Member and Make a Direct Donation
PROGRESS UPDATE - We are almost halfway to our goal of at least $50,000 by October 1st, with a current total of $24,300. We are thrilled with the progress, but still have a ways to go. In addition to our objective of meeting or exceeding our financial goal, we would love to see a high percentage of participation by families who are able to give in any amount.
Make a Direct Donation - Your Direct Donation supports invaluable programs for all Otis children. These include classroom technologies, library books, reading specialists, music, art and garden docent lessons, motor fitness, educational assemblies, field trips, and more! Our goal is to raise at least $50,000 by October 1st, with donations of $250-500 per child or whatever amount you can comfortably give. Don't forget to check with your company for corporate matching as well!
Join the PTA - Anyone can join - parents, grandparents, friends, and neighbors! Your voice is important to us and membership costs only $10 per person per year.
To join and donate
- Please see
this flyer
for details or click
here
to make your donation and join the PTA. If you are making a direct donation and purchasing one or more PTA memberships at the same time, be sure to add them separately to your cart before checking out. Please contact
Liz Sparber
with questions.
Join Us For Our First PTA Social Night
We're trying something a little different this year - Please join us for our first PTA Social Night between 6pm-7pm at Alameda Island Brewing Company on
Thursday, September 26th
. Come and talk with Principal Tanya Harris and other members of the PTA Board to learn what new & exciting things are happening at Otis this year! This meeting will be an informal discussion (no presentations) and a great place to ask questions. Food available to order at Monkey King. This will be a kid friendly event.
IMPORTANT SCHOOL NEWS AND EVENTS
BIKE REPAIR DAY
If your bikes need maintenance or some repairs, come to the blacktop on September 12th from 12-4pm. The Safe Routes to Schools BikeMobile will provide free tune ups for all parents, students and teachers at our school! BikeMobile staff can help fix bikes during recess and lunch and after school.
The BikeMobile can fix flat tires, adjust brakes and gears, and even replace broken or worn out parts like chains, seats, and tires. Bike or no bike, everyone is welcome to attend to learn about maintenance, safety, and more! This is a first come, first serve event. BikeMobile volunteers can only guarantee to fix the first 20 bikes that come, so plan accordingly!
THE 5TH GRADE CLASS PRESENTS: MOVIE NIGHT: Detective Pickachu!
SOLD OUT! Information below is for those already registered:
WHEN: Friday, September 13, 2019
TIME: Doors open at 6:00pm; Movie starts at 6:30pm. Pick up promptly at 8:30pm.
WHO: Otis students only (grades K-5). Sorry, no younger or older siblings.
Ticket price includes pizza, fruit, drink, dessert and popcorn!
SUMMER SCHOLARS
The Summer Scholars Pizza & Ice Cream Party is set for Friday September 20!
The party times will be as follows:
K & 1st grades: 11-11:30am
2nd & 3rd grades: 11:30-12pm
4th & 5th grades: 12-12:30pm
The Summer Scholar students will be called out from class (or recess) to attend the party at their designated time and they will not need to pack a lunch that day (unless you would like to supplement their pizza party lunch).
If there are students who missed the cut-off date to turn in their work and would still like to do so, please have them submit their work directly to the summer scholar box in the Owl Room (next to the office) by Thursday Sept. 5.
We will need 8-10 parent volunteers to assist at the party on 9/20 (a couple prep positions are needed prior to the party). Please sign up on Konstella.
For any questions or to let me know about any specific food allergies/needs please email:
rebekahbalboni@att.net
.
(There will be a couple gluten-free pizzas)
Congratulations to the all the Summer Scholars!
FAMILY CELEBRATION PICNIC
A celebration of the diversity of our Otis community
September 20, 2019 6 - 8 pm Krusi Park & MPR
Everyone is invited. Your family is included.
Come enjoy a potluck picnic outside at Krusi Park from 6-7 pm, followed by live music and dance performances by students, parents, and community members from 7-8 pm in the MPR.
Bring a finger food to share. Please bring your own plates and utensils if you can.
There will be parent volunteer photographers capturing high quality photos of our families. We want to capture the uniqueness of your family!
What food to bring: Sign up
HERE
to indicate what finger food (or drinks) you would like to bring to share.
FINGERPRINTING OPPORTUNITY AT FAMILY CELEBRATION PICNIC
Otis parent Emi Johnston will also be onsite during the Family Celebration Picnic event on Friday,
September 20th from 6-7 pm
to conduct livescan fingerprinting, which is needed for anyone who may be spending time alone with children (e.g. field trips). Sign up
here
for a timeslot. The PTA offers financial assistance with the fingerprinting fee for those who need it. Please email
OtisPTATreasurer@gmail.com
with any reimbursement questions. See the Volunteer section below for more information on volunteer requirements including fingerprinting.
OTIS AT THE A'S GAME: A'S vs TEXAS RANGERS
Come join your fellow Otis families for a fun day with the A's. Sunday, September 22nd vs the Texas Rangers at 1:07 pm. Because it's a day game, kids will get to run the bases after the game. We will be in the Plaza Level, Section 207.


The first 80 tickets are $15/ea (plus convenience fee), so get your tickets fast! Price will go up to $28/ea (plus convenience fee) after the first 80 are sold.
Box Top$ are back and are going digital!
We will start our Box Top$ drive soon, but there are some BIG changes to the program. Box Top$ is going digital as it moves forward. Please take a look at
this short video
to learn about the changes.
I will ALSO be collecting any Box Top$ clips (those little cardboard pieces) that you still have and which have an expiration date that is still valid. Within the next couple of weeks I will get the bins back in the classrooms and will post an announcement to let you know when to send those in.
In the meantime, please download the new app, keep track of your receipts and make sure you scan them within 14 days of purchase.
I will do my best to answer any questions you may have about this, but it's new to everyone, so I appreciate your patience if I don't know immediately.
And to address the big question you have: yes, this will change our Box Top$ drive from an individual room-based competition to a school-wide effort.
Thanks for your support of this program and the school. Last year we raised over $700 for the school!
Keep clipping if you have old boxes with Box Top$ and start scanning if you buy products with the new labels.
DINE & DONATE - CHIPOTLE
Make dinner a selfless act by joining us for a fundraiser to support Otis Elementary PTA. Come in to the Chipotle at 2314 South Shore Center Drive in Alameda on
Monday, October 7th
between 5:00pm and 9:00pm. Bring in
this flyer
, show it on your smartphone or tell the cashier you're supporting the cause to make sure that 33% of the proceeds will be donated to Otis Elementary PTA.
Morning drop-off can be hectic. There's no parking, people are crossing at every corner and you have to get to work. The Otis Safety Patrol is here to help make drop off easier and smoother. But it helps if we are all on the same page.
There are two drop-off locations: Fillmore Street and High Street. Fillmore, by far, gets more drop-offs than High Street as the closest entrance for the bottom four grades (K-3).
FILLMORE STREET
Because it is so busy, we ask that you abide by the following rules:
Pull forward all the way to make room for carpoolers behind you. Pay attention to the volunteers waving you forward. It may be that you have to pause for the car in front of you to leave before letting your child out.
The Safety Patrol volunteers will help students exit vehicles and escort younger children on campus.
Please do not make u-turns on Fillmore, as it is extremely dangerous.
Exercise caution pulling out of carpool - students are crossing all along Fillmore Street.
If you can, plan to arrive with enough time to get through the line without being late.
If the line is long, consider dropping off on HIGH STREET - the line is usually much shorter.
HIGH-STREET
Drop off is fairly straight-forward at High Street. Enter from the North and exercise caution when pulling back out into traffic as there are pedestrians crossing at Calhoun and High Street.
NON-CARPOOL DROP-OFF
If you are parking and walking your child to class,
Allow sufficient time to find parking
Do not block neighbors' driveways, jay-walk, or double-park.
A FEW NOTES FOR PEDESTRIANS
Help traffic flow by yielding to cars exiting the carpool drop-off if you see a long line.
Please note the crosswalk at Calhoun and High Streets is not the responsibility of the Safety Patrol Squad leader. Their job is to ensure the safety of the squad and the students exiting the cars. If you need assistance crossing the street, please walk to Fillmore and High Street where Jesse Dickinson, our long-time crossing guard, can assist you and your child/ren.
Most importantly, be patient with our volunteer students and adults. They come to school before everyone else to set up their morning to provide a valuable service.
We are still looking for Safety Patrol Volunteers! If your 4th or 5th Grader is interested, please contact Neveen Acero (
neveen.acero@gmail.com
)
VOLUNTEER AND COMMUNITY SERVICE
VOLUNTEER FORMS
It is very helpful to get your volunteer forms in order now so they are taken care of for the year. They can all be found
here
. Start with the Otis Volunteer Agreement packet for instructions. Remember, once you are fingerprinted as a parent volunteer with AUSD, that lasts for your entire time in the district and it is great to get this done early so you are all cleared for the years to come. Otis parent and Live Scan professional Emi Johnston of Island Notary & Live Scan will be on site during the Family Celebration Picnic (see above for link to sign up for a time slot) or contact her directly now by texting or calling 415-676-8007! She is flexible and located right near Otis and can set up a time that works for you, including weekends, early morning, and after work.
ART AND GARDEN DOCENT PROGRAMS
If you are interested in being a part of our wonderful art and garden docent programs be sure to join the Konstella groups which can be found under committees, enrichment.
Thank you so much to all of the studen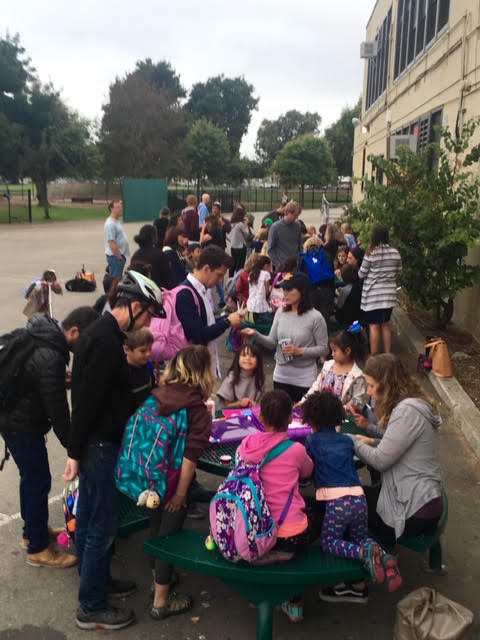 ts and families who joined us early last Friday morning to make butterflies for the Butterfly Effect project - in just under 30 minutes our incredible community was able to make close to 200 butterflies! That has to be a record!!
For those of you who were unable to make it but would like to participate in this youth-led effort to create 15,000 butterflies to bring attention to the 15,000 immigrant children currently in U.S. detention centers, please check out the Butterfly Effect website (
https://butterflyeffectmigration.org
) for ideas about
how to make butterflies at home, or even host your own butterfly making event! Look out for a box in the office where you can drop off
finished butterflies. The butterflies will be strung up and displayed in museums, libraries and other local public institutions (look out for a display coming to Otis soon!).
Due to the success of today's event we are exploring hosting another morning butterfly making event - stay tuned for more!
IT'S NEVER TOO EARLY TO START PLANNING
Spring Auction Volunteers Needed
The Spring Auction (aka Spring Fling) is one of Otis's biggest fund-raising efforts. This adults-only annual event celebrates our amazing community, while raising close to 35% of the annual PTA fundraising target. Our fun themes add to the celebratory nature of the evening which is complete with a dinner, drinks, dancing, and silent and live auctions.
How does the Spring Fundraiser support our Owls?
The Spring Fundraiser raises more than 1/3 of the Otis PTA's annual fundraising goals. Our school is extremely fortunate to have an active parent community that gives so generously to our school. The Otis PTA funds an array of programs and curriculums at our school including:
Otis' STEAM LAB
Soul Shoppe, our social-emotional curriculum
The Art and Garden Docent programs
Small group learning, including reading intervention
Recess supervision
Books & technology
Field trips & assemblies
How can I help?
There are many ways to help before, during and after the event. A few critical "jobs"are listed below.
Graphic Designer - Design event theme artwork for marketing, program guide, event signage, invitation/postcard, etc.
Donations Solicitation Lead - The auction is only as good as the items and bundles donated, and the generosity of our community of donors and bidders. Some corporate donors require up to 3 or 4 months to review and approve donations. This year, we will start soliciting donations earlier to ensure we have a good selection of high-value items. This job entails calling, emailing or visiting potential donors (list provided)
Communications Lead - As event date gets closer, we will include weekly/bi-weekly content for the Otis Outlook and Konstella as well as promote the event on our Facebook page.
Dessert Auction Coordinator - 2018-19 was the first year we did this and it was a huge success. We start the live auction with a dessert auction. This role is focused on soliciting cake/dessert donations, coordinating delivery to the event, and setting up the display.
Parties Organizer - A big seller at silent auction are our parties and Gifts from the Heart. Parties are put on by individuals, couples or groups of individuals/parents based on a theme. Past parties have included:

Make Your Own Pizza Party
Bollywood-themed Party
Moms Cocktails and Crafts
Golden Girls
Gifts from the Heart are experiences that the teachers and administrative staff share with kids. Examples of Gifts from the Heart are:
Principal for a Day
Baking with Ms. Gilbert
Weekend STEAM Lab with Mr. Jerrold
Gaming and Goodies with Mr. O'Toole.
Parties and GFTH have limited seats and people sign-up to attend the event. The Party Organizer reaches out directly to parents and teachers with ideas for parties.
Auction Item Team Members - Inputting auction items into auction software, helping to organize and coordinate auction bundles, night-of input
While it's still early, we are gathering a team early to ensure a successful Spring Auction. It's a great way for new families to get involved, meet other families, and learn the ropes to continue the tradition (or change it and make it their own) in future years. If you are interested in being a part of the planning and helping in any of these categories, or if you have any questions, contact co-chairs,
Neveen Acero
(
neveen.acero@gmail.com
) or
Laura Meith
(
lmeith@gmail.com
). Or just sign up on Konstella for the Spring Auction Committee
here
.
SIGN UP FOR KONSTELLA AND FACEBOOK GROUP
Want to stay in the loop on Otis news?
Konstella is our primary communication tool! Eventually, the Otis Outlook may be available via Konstella only.
Lunch Purchase Information
Teen Wellness Film Series
Presented by AUSD and PTA Council in partnership with student and community organizations
This film series will feature documentaries focusing on issues related to teen wellness, including mental health, sexual health, self-esteem, social media, and relationships. Our goal is to start community conversations about the challenges our teens face and how best to support them. Families are encouraged to visit
Common Sense Media's Movie Reviews for age recommendations
.
Please register to attend at
http://bit.ly/SpeakerSeriesRSVP
and
to find screening location
. Free Admission ($10 suggested donation to help us sustain our programming). First come, first served.
The first film is:
LIKE
This documentary explores the impact of social media on our bodies, our brains, and our relationships. In an ideal world, social media is a tool and social platforms are a place to connect, share, and care -- but what's really happening? And how can we learn to manage social media better?
Screening: Thursday, September 12, 2019 6:00-7:30 p.m.
If you are not receiving emails from AUSD be sure to contact them to get on their list.
OTIS COMMUNITY AND BEYOND
Alameda Education Foundation ("AEF")
After-school enrichment class registration is open and there are still some classes with available spots! This season we have Book Making, Clay Sculpturing, Tennis, Math Mind Juniors, Magic and other fun classes.
Flag Football Alameda
Registration is open for Alameda Flag Football's fall season. The program is open to boys and girls aged 7-12. The season runs from
Sept. 14, 2019 through Nov. 16.
For more information, go to
www.eastbayflag.com
.
All Star Academics Summer Camp and Afterschool Program
All Star Academics is an after-school program and summer camp centrally located in downtown Alameda, near the Alameda Theater. The program offers after-school care and homework assistance for TK - 8th grade students in small classes of similar ages. One-on-one tutoring is also available, and transportation can be arranged through All Stars. For more information call 510.769.8172, email
info@allstaracademics.net
, or visit
www.allstaracademics.net
.
Alameda Aikikai
offers classes in Aikido - a self defense art that improves flexibility, muscle tone, endurance, and self discipline - for all ages on weekdays and the weekend. Discounts available for families. For more information, please go to
www.AlamedaAikido.com
.
OUTLOOK CONTACT INFORMATION
To contact Otis PTA Outlook, please send an e-mail to
otisoutlook@gmail.com
, or hit reply to this newsletter. These emails will go directly to the Editor's personal in-box.
Thank you,
Outlook Editor